BIS RBIS MBISS GCHS T-Town N' ColdWater's LIV'N It Up JH
"Quinn"
(CH Star K's Mile Hi Carlos Stardust RN x CH ColdWater's Never Forget Your First at T-Town CD JH VC)

The first to crawl out of the whelping box, brave and beautiful, I knew Quinn was "the one".  She stole my heart from the very beginning.  A perfect mix of naughty and sweet.  
We are so excited to see what the future holds for this very special girl, our first home-bred shorthair.
Quinn earned her JH going 4 for 4 in her first hunt test- she is a natural at finding birds and stays on point like a broke dog.
She also finished her CH from the Bred By Classes which makes her my first Home Bred Champion!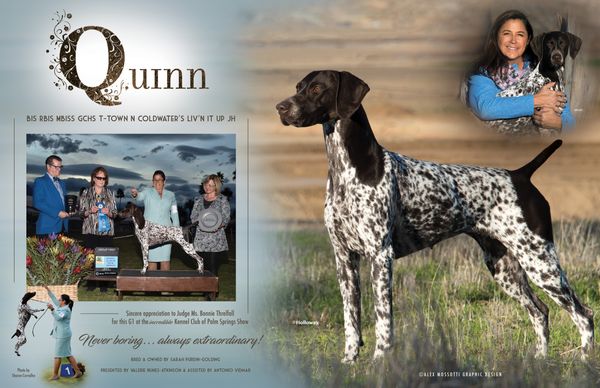 Incredible THANK YOU to Valerie and Antonio for conditioning and showing Quinnie to perfection.
With you two she went straight to the top!  
Thank you to Alex Mossotti, ad designer extraordinaire, for this beautiful piece!  
Makes my heart sing AND melt! 
2016 National Specialty Show
Judge Alessandra Folz's comments-
"My Best In Sweeps just took my breath away.  She is such a tidy package- great on her legs, style for miles, and a huge attitude wrapped up with a bow."
CH Huntabirds Riverside Reason JH

CH Huntabirds Main Reason

CH Rising Star's White River Debut JH

CH Serkraut's Scotch Neat

CH Maekenet's Flying Persuasion

CH Minado's I-M Precious Crystal

CH Kan-Points Enchanted Reason

CH Paladen's Stand To Reason

CH Kan-Points Destiny Calls

GCH CH Olde Ridge Hey! That's The Way

CH Enrenvogel Place Your Bets

CH Olde Ridge On Second Thought V, Cheza

CH Farooks Straight Up Hunterspride JH

CH Shomberg's Browning Citori

CH Starlite's Calamity Jane